Remember the dress that I wore to Mike's Family's Thanksgiving Dinner with his Nana?
Since my flash is super dark with the sun behind us, here's a picture of the dress from the site where I bought it...
WELL
I just realized it looks INCREDIBLY SIMILAR TO the dress Kate Middleton is wearing in all her Engagement Photos...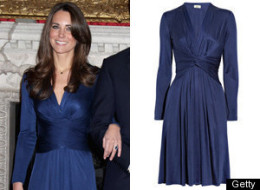 Oh wait, not just incredibly similar...
it. is. the. same. dress.
I feel incredibly fancy and posh right now.
All I need to complete my look is her HUGE hunk of a sapphire engagement ring...
I'm sorry if no one else found this post to be as exciting as I did, but really I'm not. Because I think this was the most interesting news I've received all day.